FSG Property Services Ltd provides a broad range of services. Delivering the following to local authority, social housing, private sector and educational clients.
FSG Property Services Ltd have over 25 years of experience serving local authorities, homeowners, landlords, commercial organisations, and the public sector within a 50-mile radius of Milton Keynes.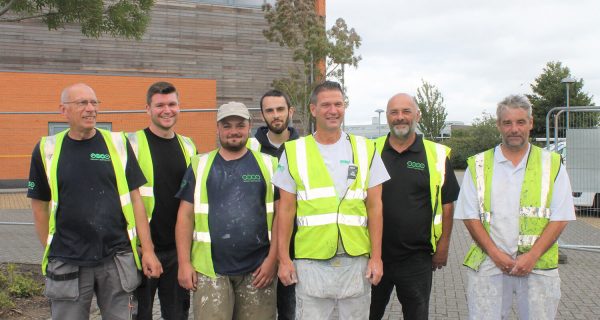 About Us
Specialising in the delivery of public sector housing maintenance and improvement contracts, our growth has been achieved by embracing environmental change and adopting new products and initiatives to continually fulfil customer requirements and expectations.
Based in central Milton Keynes, our head office serves local authorities, housing associations and social housing providers across Buckinghamshire, Bedfordshire, Oxfordshire, Hertfordshire and Northamptonshire. We have also established a secondary office in Marlow as part of our recent expansion.
We deliver high standards of workmanship and customer care, with all the necessary accreditations to ensure health and safety procedures are followed. Employing over 100 staff in the local area, the founders of FSG Property Services are still actively involved in the company's management today.
Customer satisfaction is essential to our services, and we work hard to engage with key stakeholders, residents and the local community on every project. We aim to leave a lasting, positive impact on social, economic and environmental wellbeing through employment, training, community projects and our commitment to local purchasing.
Reputation for excellence
FSG has established a reputation for constructing high quality and competitively priced buildings.
Operational Area
We operate throughout the Northern Home counties and provide services nationally for our Major partners.
We have a sound financial record and well -earned reputation for excellent craftmanship and we pride ourselves on our track record of delivering excellent projects on time and within budget.
This is testament to why we enjoy long-lasting partnerships with so many of our clients.
They know they can trust us to deliver to the highest specifications , irrespective of the complexity of the scheme requirements.
Diverse Client Base
We deliver new build projects up to £10 million. We have the capability and expertise to undertake any commercial, educational, healthcare, housing or retail project. Our clients include:
Company History
The FSG brand story began in 1997, when FSG Technologies was established by current directors Jon Lennox and Jason Morgan to provide fascia, soffits and guttering services. Specialising in seamless aluminium guttering and roofline installations, FSG worked predominantly in the domestic market.
Awarded First Major Scheme
2002
In 2002, FSG Technologies Ltd was awarded its first major scheme in Welwyn Garden City, replacing roofline to thousands of houses. This work created opportunities with other public sector organisations, including Central Bedfordshire Council, Milton Keynes Council and Paradigm Housing Association.
JNJ Property Services
2006
In 2006, JNJ Property Services was founded to deliver property services within the public sector, installing kitchens and bathrooms as part of the Decent Homes Programme.
First Major Contract
2007
In 2007, FSG Technologies secured its first major contract with South Northants Homes as the main contractor installing new uPVC roofline.
FSG Property Services
2008
During the summer of 2008, FSG Technologies and JNJ Property Services merged to form FSG Property Services Ltd. Through rapid growth and success, we have secured several sizeable social housing projects and seen our turnover increase by 400% from 2006 to 2009.
Energy Saving Commitment
2011
In 2011, FSG invested in energy-saving measures as part of our commitment to help combat climate change and promote renewable energy. Today, that mission is as important as ever.
The team worked very well together, they were efficient, very polite and clean and tidy. The work was completed with very little disruption to myself and my home, many thanks.
I can't praise this company enough. The work men did a fantastic job and the two men who did most of putting the roof on were very good and very helpful. They cleaned up after themselves each day and lots of people in our village have said what a good job they have done. Everybody was so impressed with the new style of the roof, on how neat and tidy it looks. I would recommend this company, they are 1st class.
Professional and polite. The works to be carried out were explained throughout the process. The company used and subcontractors were all hardworking. My property has additional access issues with the long pathway to get to the house, which added complexity to the job, yet they all carried out their work sufficiently with checks made at every stage. I think they all did a good job throughout.
We would like to commend the 2 workmen who did an excellent job with our bathroom flooring.

The 2 contractors were polite, kind and non-intrusive. They left no mess and carried out their work in a cheerful manner. In all, it was very well organised and went without a hitch. Well done!
I have recently had my front path done and I just wanted to say how happy I was with the builders.

They were considerate, friendly and kept me informed with what they were doing and what the process involved. They cleaned up when they were finished. They were aware that parking around the street was difficult and always parked with consideration to other road users and pedestrians. I would be more than happy to recommend FSG Property services.
My thanks to FSG Property Services for spending the time to show me the cladding works being undertaken to our customer's homes in Lane End.

The impact of the work that was carried out has had a massive impression on the residents in the local area. The comment of "I have not even had to put my heating on yet this year " reinforced what a difference this will make.

Please pass on my thanks to the FSG team involved and I will be popping by again to see how the programme is continuing to make a difference to Lane End.
I just want to say how thrilled we all are with the new kitchen that has been fitted. There were no problems, the builders were polite, helpful and very good at what they were doing.

They got on with the job. Everything was finished within one week to a good standard.

Thank you.
We had Scott from FSG Property Services Ltd attend our home today to repair our kitchen,  absolutely fantastic and a real credit to FSG, your workmanship was first class.