Did you know… Company vehicles from April 6th, 2020 choosing a fully electric vehicle will pay no benefit in kind tax (BIK) in 2020-2021 with a review from the government to boost to sales of zero-emission vehicles?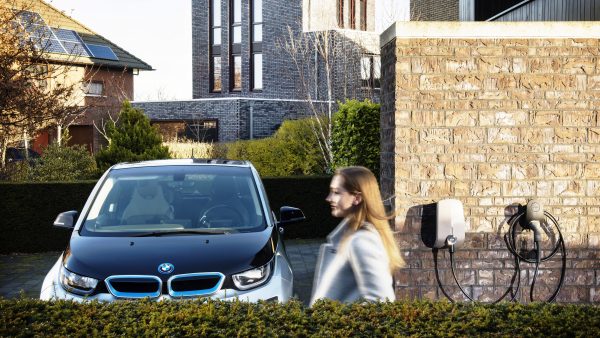 The FSG team are…
OLEV approved in both the Electric Vehicle Homecharge Scheme (EVHS) and Workplace Charging Scheme (WCS)

Qualified in NCEIC Electrical Installation of Electric Vehicle Charge Points
How We Can Help You
The FSG team are an ICS approved installer on both the Homecharge and Workplace Schemes since May 2019, we are also Authorised Installers with OLEV (Office of Low Emission Vehicles). The best time to charge your vehicle is at night when your tariff can be cheaper. Simply plug your car into the charge overnight as you would a mobile phone and your vehicle will be charged by the morning.
To help private plug-in vehicle owners offset some of the upfront cost of the purchase and installation of a dedicated domestic recharging unit, the Government is running the EVHS. This is where Electric Vehicle Owners may receive £500 off the total capital costs of the charge point and associated installation costs.
ICS has a matrix to allow customers to type in the vehicle model and make which generates the correct charge point for each car.
See more here: https://www.intelligentchargingsystems.co.uk/
Are you eligible?
You need to have purchased an eligible electric or plug-in hybrid vehicle from 1st October 2016 onwards.

You must be either a registered keeper, lessee or have primary use of an eligible electric vehicle.

The date of installation must not be more than 4 months ahead of the date of delivery or date the customer becomes the registered keeper/ nominated user/ lessee of the electric vehicle.

You must use an OLEV-approved home charging point installer such as FSG Property Services Ltd
Work Based Charging Scheme (WCS) is a voucher-based scheme to allow businesses to claim up to £350 per socket and up to a maximum of 40 sockets per business. The business can have charge points installed without owning an Electric Vehicle as they may require charge points for visitors, tenants or employees who have Electrical Vehicle's.
As an approved ICS installer, FSG Property Services can offer a wide range of OLEV approved Electric Vehicle Charge points which have been specially designed for domestic locations and commercial locations, including restaurants, offices, factories, warehouses and car parks.
At FSG Property Services, we offer bespoke and individual work packages through to full turnkey solutions using our direct delivery model, which provides complete control over the quality of our work with using our multi-disciplinary team of highly trained operatives covering a full range of trades.
Our in-house experts can take your services from initial concept to completion, including site surveys, groundwork's, installations, and commissioning providing you with a "One Stop Shop" service.
The team worked very well together, they were efficient, very polite and clean and tidy. The work was completed with very little disruption to myself and my home, many thanks.
I can't praise this company enough. The work men did a fantastic job and the two men who did most of putting the roof on were very good and very helpful. They cleaned up after themselves each day and lots of people in our village have said what a good job they have done. Everybody was so impressed with the new style of the roof, on how neat and tidy it looks. I would recommend this company, they are 1st class.
Professional and polite. The works to be carried out were explained throughout the process. The company used and subcontractors were all hardworking. My property has additional access issues with the long pathway to get to the house, which added complexity to the job, yet they all carried out their work sufficiently with checks made at every stage. I think they all did a good job throughout.
We would like to commend the 2 workmen who did an excellent job with our bathroom flooring.

The 2 contractors were polite, kind and non-intrusive. They left no mess and carried out their work in a cheerful manner. In all, it was very well organised and went without a hitch. Well done!
I have recently had my front path done and I just wanted to say how happy I was with the builders.

They were considerate, friendly and kept me informed with what they were doing and what the process involved. They cleaned up when they were finished. They were aware that parking around the street was difficult and always parked with consideration to other road users and pedestrians. I would be more than happy to recommend FSG Property services.
My thanks to FSG Property Services for spending the time to show me the cladding works being undertaken to our customer's homes in Lane End.

The impact of the work that was carried out has had a massive impression on the residents in the local area. The comment of "I have not even had to put my heating on yet this year " reinforced what a difference this will make.

Please pass on my thanks to the FSG team involved and I will be popping by again to see how the programme is continuing to make a difference to Lane End.
I just want to say how thrilled we all are with the new kitchen that has been fitted. There were no problems, the builders were polite, helpful and very good at what they were doing.

They got on with the job. Everything was finished within one week to a good standard.

Thank you.
We had Scott from FSG Property Services Ltd attend our home today to repair our kitchen,  absolutely fantastic and a real credit to FSG, your workmanship was first class.